The affable Kitchen at Holmes restaurant attached to the Holmes Hotel has undergone a recent multimillion-pound renovation, and this lovely London restaurant still looks shiny and new.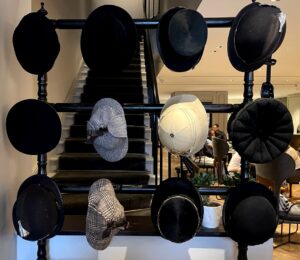 You will see the Kitchen at Holmes white-washed facia and its simple K logo located on the iconic Baker Street, in Marylebone Village.  One of London's most famous streets, Baker Street has been featured in pop songs and was the fictional home of the eccentric detective character Sherlock Holmes created by Arthur Conan Doyle.
However, there's nothing eccentric about Kitchen Restaurant, perhaps save for the caps that prevailed in the times of the master detective that hang behind the reception desk as a nod to Mr Holmes. Other than that, this restaurant is both genial and cheerful.
The hearty dishes on the menu are inspired the Chef Stefano Motta's travels. Motta's dishes are a fusion of modern European and Mediterranean influences and are segmented into groups from 'land", "field", and "sea".
Ambience
Glass doors swing open automatically as I approach and stepping into an open space with a swanky bar has a bit of a wow factor going on. Passing the bar the restaurant stretches out towards an open kitchen with a couple of chefs doing their thing to a backdrop of a dramatic-looking fireplace.  Not sure what they cook in there but the aesthetics are great.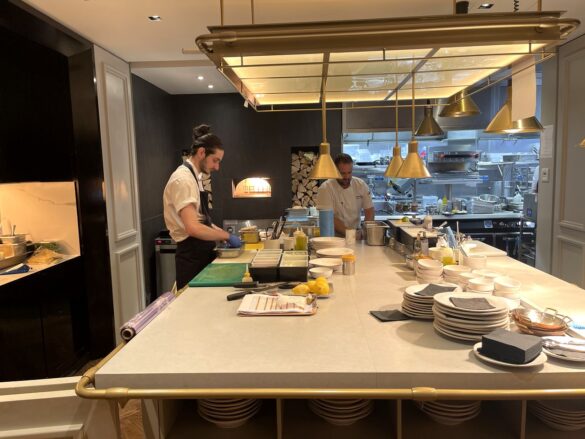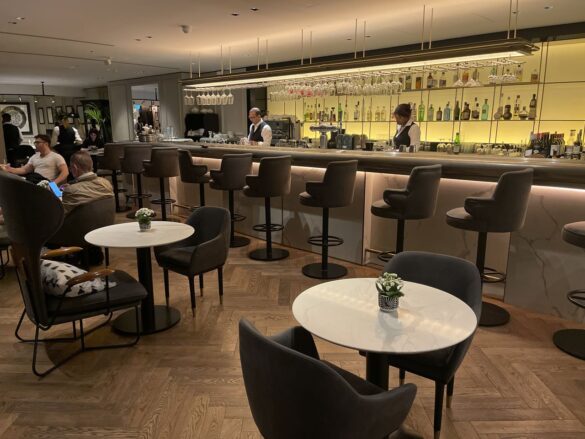 The colour scheme of black-grey tones throughout oozes a certain calm while a feature walls adds colour. The wood flooring, grey-toned seating and white, grey and black marble tables completed the theme. Kitchen at Holms is stylish rather than plush and slick, spacious and airy.
We visited in the evening and the lighting was dimmed for that touch of romance.
Food & Drink
The range of entrees and sharing plates menu are enough to excite any palette and at times it's hard to choose. It's an eclectic mix and thankfully they are sharing plates, so there's no need for an FOMO (fear of missing out).
The menu divides the dishes into "land". "field" and "sea" offering a variety to please most people.
We choose five, starting with a simple Zucchini Fritti – the best zucchini I ever tasted. It may sound odd to rhapsodise about such a simple offering, but these strips of sweet courgette were pleasingly crunchy and highly flavoursome.
Soon our table filled up with a colourful feast of our sharing choices: a particularly smooth tuna tartare, highly aromatic, salty padron peppers, and a soft lamb kofta that sat on tahini and was served with pita. My favourite was a plate of soft artichokes with on a bed romesco sauce spiced up with za'atar – a delightful mix of tomato, paprika and hazelnut sauce. 
The "large" main dishes contained baked eggs shakshuka but after deliberation I chose the spiced roast half chicken with confit garlic, lemon and roasting jus and my companion the 35 day aged Lake District Farmers beef ribeye (200g) which also came with roasting jus.
The chicken was well-executed, delicious and a little spicy. The steak came thin-sliced, soft on the palette cooked medium rare. A thoroughly decent munch which we paired with chunky chips and seasoned broccoli.
We didn't drink much that night, just a dry vodka martini and a one of their signature cocktails Gate Closed comprised Diplomatico rum Frangelico Mozart dark chocolate and popcorn syrup. Deliciously sweet.
There really was no much space for dessert, but in the name of research, we shared a fabulous Tirimasu.
---
Verdict: Every single dish was delicious and not a single nit pick. The surroundings are lovely and the service is slick. This is high-end casual dining in one of London's most worthy restaurants.
More info about Kitchen at Holmes here.
#Kitchen #Holmes #Baker #Street #London